About Kayelin Wright
My name is Kayelin Wright, and I'd be honored to help you navigate every step of your buying or selling journey! I began my real estate career in 2004, just six months after I relocated to Texas from Phoenix, Arizona. During the last 19 years, I've been fortunate enough to be recognized by the 39,000-member Houston Association of Realtors as a top-level sales production and customer satisfaction agent. 
Despite all the accolades I've earned over the years, my commitment to my clients is what truly drives me to succeed. Take some time to learn about what I bring to the table, and give me a call when you're ready to get started!
Helping you every step of the way
One of the biggest challenges of buying or selling a home is making countless decisions along the way, often without much time to weigh your options. Many of these decisions will be based on solid data and facts, but some are also influenced by your emotions. And your first decision may well be the most important one you make...The agent you hire to represent you. 
As your agent and advisor, you can trust me to help you feel confident and reassured when I guide you through the decision-making process of buying or selling a home. If you ever have any questions, I'll be right by your side to provide the answers you need!
See Kayelin in Action
Whether I'm prepping your home for an open house or giving you a tour of our area's hottest listings, I'll always go the extra mile to ensure you're more than just satisfied. Here's why I'm passionate about helping clients achieve their real estate goals.
What Kayelin's Clients Have to Say
"Kayelin is incredible."
Kayelin is incredible. When there was an issue with the purchase terms, she went above and beyond expectations and resolved the issue in my favor. I highly recommend Kayelin to anyone looking to buy or sell!
"Proactive and Excellent Communicator"
She seemed to know exactly what was needed to sell the property. proactive and excellent communicator, pleasant to work with, but knows how to get the job done. would work with again for sure!
"Kayelin is an absolute treasure"
Kayelin is an absolute treasure..she is knowledgeable, attentive, diplomatic, detail oriented, patient, compassionate and tenacious! Thanks to Kayelin, I didn't give up and found the perfect home!
Recently Sold Properties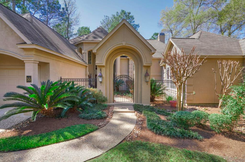 Aberdeen Place in Cochrans Creek
Teakwood Place in Alden Bridge
Moss Bluff Court in Alden Bridge
See More
Visit Our Blog
My blog has everything you need to know about real estate and what's going on here in The Woodlands. Check out my latest posts and let me know what you think!
Search for your Sanctuary
Home Value
Get your home's value in a snap.